Preliminary information and invitation FinnSpring 2023
Welcome to the Long Distance Orienteering Competition that will be held in Sauvo, April 22. 2023. The competition also serves as a World Ranking Event (WRE).
The competition is organized by RastiPiikkiö ry and Sauvon Urheilijat ry.
Event Director: Harri Lukander tel. +358 50 052 3832, e-mail:  finnspring2023@gmail.com
Course setter: Antti Ketonen, e-mail:  ajketonen@gmail.com
Information and media: Salla Sergelius +358 50 582 0084 e-mail:  finnspring2023@gmail.com
Technical adviser: Matti Mäkirinne, e-mail: matti.makirinne@gmail.com
Course controller: Ilkka Nokka, e-mail ilkkanokka@gmail.com
WRE event adviser: Johan Uusimäki e-mail johan.uusimaki@gmail.com
Venue:
The competition center is located in Sauvo, Osmalahti. In addition to the competition functions, the competition center has canteen and café services as well as sales points.
Overnight stay at the competition center is prohibited.
Competition:
22.4.2023 Individual Competition, long distance 1:15 000
Classes and entry fees:
WRE: M/W21E (38 €)
In the WRE classes M/W21E will be selected 60 competitors. Selection is made according to world ranking points dated 16.4.2023 (45 competitors/class) and final ranking of 2022 for long distance  race (10 competitors/class) and also 5 competitors/claas, that are selected by organizers together with WR event adviser and FOF's coaching management.
Starting order is according to world rank score at entry date. The competitors that are not selected in classes M/W21E are transferred to parallel classes M/W21EB according to IOF's WRE rules. The main classes and possible parallel classes are all WRE competitions.
Others:
H/D20E, H/D18E ja H/D16E (26 €)
H/D21A,AL; H35A,AL-H65A,AL; H70-H90; D35A,AL-D65A,AL; D70-D80 (23 €)
H/D17-20, H/D16 (15 €)
H/D14, H/D13, H/D12, H/D12TR, H/D10, H/D10RR (10 €)
In other classes organizers have a right to divide participants in parallel classes according to the amount of participant restrictions.
Courses and estimated times
The estimated winning times are in accordance with the rules. The final course lengths are published in the event information.
Competition rules
This event follows the rules of the Finnish Orienteering Federation, the IOF guidelines for World Ranking Events, the special rules for the Finnish Championships issued for 2023, and the instructions given by the organizers. It is forbidden to use spike shoes; studded shoes are allowed.
General Maps of the region: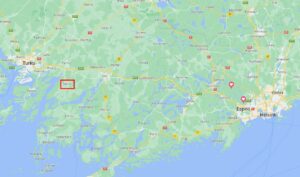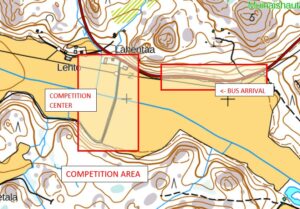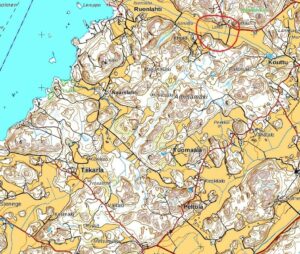 Embargoed areas: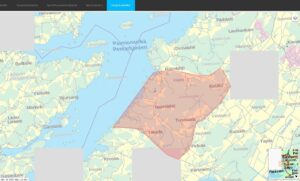 Competition Centre: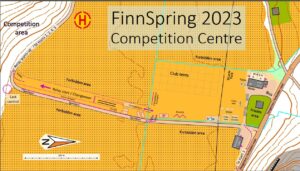 Registration, latest date and address for entries:
The deadline for entries is 16.4.2023 24:00 through IRMA (https://irma.suunnistusliitto.fi).
Foreigners without IRMA ID register via IOF: Eventor (WRE classes H21, D21).
Foreigners who register for a WRE class through IOF's Eventor must pay their registration
Fees in euros to:
Account holder: Rastipiikkiö ry
Bank name: Suomen Osuuspankki
Bank address: Hadvalantie 10,21500 Piikkiö
IBAN: FI61 4714 1020 1217 91
BIC: POPFFI22
The deadline for participation fees is 16.4.2023
Late registration by 19.4. at 24:00 through IRMA. (double fee).
All changes to registration information niko@resultsalo.fi
Information about entering Finland and visas can be found from the web page of Finland's
Ministry for Foreign Affairs https://um.fi/entering-finland-and-travelling-abroad
Description of any transport offered:
Parking for cars is situated in the center of Sauvo. Bus transfer from parking non-stop to the competition venue. Price 2e is to be paid before traveling back.
Description of terrain, climate and any hazards:
The competition terrain is  typical fast going southwest Finland's mixed-forest terrain. Some roads across the map, hardly any trails. The competition map is the first orienteering map compiled of the area since the 90s.
The end of April is usually moderately warm in Finland, depending how the spring progresses.  However, there is a possibility for rain and low temperatures. Check weather forecast before traveling.
Scales and vertical contour intervals of the maps:
The scale of the competition map is 1:15'000 for classes M/W21E, H/D16- 20E, 1:7'500 for classes H/D10, H/D10RR, H/D50, AL and older, and 1:10'000 for all other classes.
The contour interval is 5 m for all classes.
The map is made by Ari Salonen. The map is offset printed (CMYK) and the map also describes outcrop. The map will be printed in April 2023. The maps are in size A3 and are available in plastic cases.
Event programme:
The first start of Saturday's competition is at 11:00. The routes to the start zone are published in the competition information.
The punching system to be used:
The Emit punching system will be used. A rental card is reserved for competitors who have not entered an Emit card number at the time of registration. Rental cards are collected from the information for a fee of 5 EUR. 60 EUR will be charged for non-returned cards.
Competitors using the wrong punching card are disqualified. The competitors are responsible for using the Emit card marked on the start list.
Canteen
The competition center offers lunch and café services both days. Lunch costs around 10 euros.
Awards
Prizes are awarded to the top three in all classes.
Accommodation
Information about accommodation will be updated on the competition's website https://2023.finnspring.net
Hotels in Turku, other accommodation in Sauvo, Paimio and Kaarina.
Please bring your own safety pins!
Warm welcome!
RastiPiikkiö ry and Sauvon Urheilijat ry
Distances:
TURKU – Sauvo: 36 km / 32min
HELSINKI – Sauvo: 150 km / 1h 34min
TAMPERE – Sauvo: 176 km / 2h 20min
PORI-  Sauvo: 170 km / 2h 10min
LAHTI – Sauvo: 225km / 2h 40min